Upper School Thespians to Perform "Little Shop of Horrors"
For the third time in three decades, Little Shop of Horrors is making its return to The Colorado Springs School (CSS) stage. This gleefully gruesome musical about Seymour, a poor florist's assistant who allows his craving for fame and fortune to seduce him into playing nursemaid to a man-eating plant from another galaxy, first made its appearance at CSS in 1996 and again in 2002.
CSS Theatre Teacher and Play Director Jonathan Andujar chose the production again this year due to its witty parodies of '60s music – giving a nod to the school's 60th anniversary year – choreography, and puppetry. One of four puppets depicting the ravenous Audrey II was created in 2022 during CSS's Puppetry Experience-Centered Seminar, a three-week immersive program held annually in the Upper School division.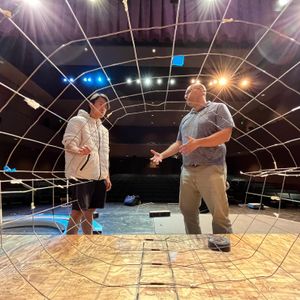 Throughout the duration of the musical, Audrey II will be depicted as four separate puppets, representing its growth from a handheld plant to a massive one that can swallow a person whole. While the smallest puppet was built from cloth material by crew member Ryan L., a junior, during the Puppetry ECS, students have been busy at work sculpting the other three Audrey II puppets out of newspapers donated by The Gazette, along with chicken wire.
Andujar holds first-hand experience operating the Audrey II plant during the 2019 Theatreworks production of Little Shop of Horrors at the UCCS Ent Center for the Performing Arts. "It was so much fun!" said Andujar, who explained how an eight-foot-wide turntable will be used to rotate through each puppet this spring.
Named Audrey II after Seymour's secret love and fellow assistant, Audrey, the eccentric plant attracts many visitors to Muschnik florist shop on Skid Row. The main problem, however, is that Audrey II happens to feed on fresh blood! As the plant begins to grow, so, too, does its appetite and demands.
For senior Morgan J., who has performed annually in theatre productions since joining CSS in the 7th grade, playing the role of Audrey has involved more prep work than any of her previous characters.
"Something that has been very challenging for me is Audrey is a victim of domestic violence. That's something I've never experienced, and I want to portray it gracefully," she said. "I've done a lot of research into it, and I'm trying to show it accurately and sink into that character. I really want to give that a good representation."
Little Shop of Horrors – with book and lyrics by Howard Ashman and music by Alan Menken – is the first musical production performed at CSS since 2020. For senior Haegan M., preparing to play the role of Seymour has been bittersweet. Haegan, who used to tremble from stagefright, has grown to adore theatre and expressing himself creatively. He has been pivotal in the school's theatre program, participating in annual productions since joining CSS as a freshman.
"I'm really looking forward to putting on one last good show with my friends in the theatre. That is important to me," said Haegan, who plans to attend Occidental College in the fall. "Even though I won't be at CSS anymore, I'll still have that theatre in me."
The Colorado Springs School is performing three shows of Little Shop of Horrors – open to the public – on Friday, April 28, and Saturday, April 29, at 7 p.m., and a 2 p.m. matinee on Sunday, April 30. Tickets may be reserved here.