Celebrating Lower School Art
On Friday, April 14, 2023, The Colorado Springs School held a PreKindergarten Art Show and Celebration of the Arts to honor Lower School students.
The PreK Art Show held in the Lewis B. Maytag Dining Hall highlighted the work of CSS's youngest Kodiak artists through an exhibition of paintings, drawings, clay sculptures, and more.
The Lower School Celebration of the Arts assembly included musical performances from the 4th- and 5th-Grade Bands and choir performances, and art awards in the Louisa Performing Arts Center.
The following students were recognized for having their artwork selected to appear in the 60th annual Pikes Peak Young People's Art Exhibition:

Jack C. (Kindergarten) - abstract painting, "Trapezoid"
Dietrich G. (1st grade) - watercolor and crayon drawing, "The City"
Blyss B. (2nd grade) - mixed media, "Cheetah Spots"
Kaylee A. (3rd grade) - mixed media, "Spring Bouquet"
Eva H. (4th grade) - clay mask, "Yaffe Figura" (which translates from Hebrew and Italian to mean beautiful figure)
Katherine B. (4th grade) - pastel drawing, "As the Sunrise on the Mountains"
Ellis E. (5th grade) - clay Gargoyle-inspired character, "The Guardian of the Sky"
The art exhibit included more than 200 entries from students in Kindergarten through 5th grade across 25 schools located throughout the Pikes Peak region.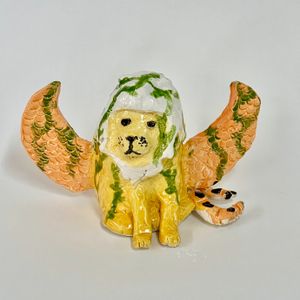 Clare J. (5th grade) was also presented with the Permanent Art Collection Award for her clay Gargoyle-inspired character, "The Wise Watcher." The facial expression of Clare's character exemplifies her keen attention to the finer details. In addition, she added imaginative parts like the textured wings of an Owl, a long Helimonster tail, and the mane of a Lion. Her realistic textures and decorative glazing emphasize the form and give the character her own flare. Clare took her time when constructing her wise and watchful character, and her own wise and creative expression shines through. Clare's art will be on display in the Lower School.