Local Award-Winning Business Owner Gives First-Hand Lesson on Entrepreneurship to Students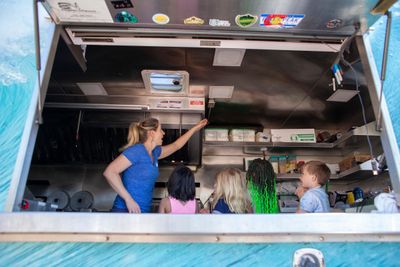 First-grade students toured a local food truck as part of a unit on entrepreneurship this semester, which involves their taking on the role of young entrepreneurs to create their own businesses.
On Tuesday, May 9, Christina Voreadis, owner of Go Fish Food Truck, spoke with students about supply and demand, shared helpful customer service-oriented advice such as "be kind and smile," and addressed key marketing strategies ranging from the importance of word-of-mouth advertising to building brand awareness. Students had the opportunity to tour the Go Fish Food Truck while on campus to see first-hand where food is stored, prepped and cooked. But first, Voreadis walked them around the outside, explaining several unique features that make the truck truly stand out. "I learned you have to have your logo everywhere," First-grade Student Lauren F. said. "And you need a menu."
Go Fish – founded in 2019 – has won several local awards since its establishment, including The Gazette's "Best of 2021" and "Best of 2022" for fish tacos. Voreadis, a former teacher, was excited to donate her time to the students.
"By learning about what goes into running a business, children are able to gain a better understanding of the skills required to be successful and are able to have empathy and understanding for businesses and their owners," she said. "Learning about business ownership at a young age can also expand their future career paths and inspire them to be creative."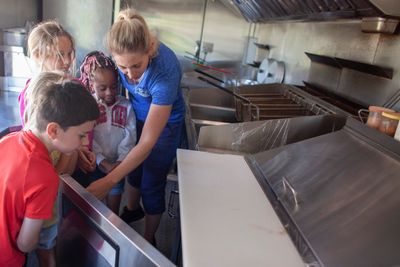 "Partnering with Voreadis was a wonderful opportunity to involve the Colorado Springs community in teaching the young students about entrepreneurship" added First-grade Teacher Ellen Crow. "The lessons Christina taught were relevant to students' upcoming Market Day project, and they were thrilled to get a peek into a food truck with the tour," Crow said. "As an added bonus, faculty and staff felt appreciated and thankful for a free Go Fish lunch provided by an anonymous donor."
The Class of 2034's Market Day unit enables students to work in small groups to create their own businesses and decide what to sell. Some popular goods and services being offered this year include unicorn slime and glow-in-the-dark tattoos. The young entrepreneurs must also prepare their items, determine a pricing structure, and create a commercial to market their products.
CSS's Market Day unit concludes on Monday, May 15, during which first-graders will man booths and invite both their Kindergarten friends and 4th-grade book buddies to browse and buy their products using play money from 8:30 to 9:45 a.m.

This news story also featured on KRDO