Learning is Full STEAM Ahead for Middle School Scholars: Partnership with Peak Education Offers Hands-on Camp Experience to Students
Building and programming robots, dance therapy, and dissecting sheep brains are just a few of the many immersive learning activities middle schoolers take part in each summer through the Full STEAM Ahead program at The Colorado Springs School. The 2022 Full STEAM Ahead season kicks off to students on Monday, July 11, and will take place Monday through Friday until July 22.
"This camp provides students with insight into just how fun learning can be," says Program Director Amy Miller, a Colorado Springs native and long-time English Teacher for The Colorado Springs School (CSS).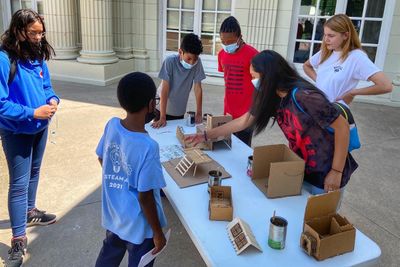 Full STEAM Ahead – led by dedicated CSS faculty, like Miller, along with high school student mentors – promotes experiential and project-based learning, the same fundamental principles applied by The Colorado Springs School for 60 years. Participants in the complimentary program include Peak Education Middle School Scholars representing school districts across the Pikes Peak region, who spend two weeks exploring technology, the arts, and science on The Colorado Springs School's 28-acre campus and throughout their local community.
According to one rising seventh-grade participant, the program sparked within her a zest for knowledge and independent thinking. "I learned so many things about my brain and how it controls all of my senses," she said. "Learning all of that made me want to look into more on my own."
Founded in 2012, the Full STEAM Ahead program is made possible by a generous donation from the Carl George Bjorkman Foundation and the Edson Foundation, in conjunction with The Colorado Springs School and Peak Education, and includes free lunch, snacks, and transportation. For those 45 scholars selected to participate in the Full STEAM Ahead program in 2021, in particular, the opportunity could not have come at a better time.
"After a year of online learning and inconsistent schedules [due to COVID-19], Full STEAM Ahead was a refreshing reintroduction into how learning should be," said Chief Executive Officer for Peak Education Carlos Jimenez. "Hands-on educational opportunities combined with a nurturing and caring community helped to re-energize our student's love for learning, and provided them with great momentum for the new school year [ahead]."
Despite coming together from a number of different schools, the middle schoolers "bonded almost instantaneously and made the most of every moment, whether building robots and writing fantasy stories or bouldering and learning to cook healthy on a budget," said CSS faculty member Caren Goldberg. Students would later celebrate their newfound friendships and academic accomplishments, such as designing a prototype trash compactor, with a pizza party and open house for families on the last day of camp.
Students also benefited from thematic field trips and experiences made possible in partnership with the U.S. Olympic & Paralympic Museum, Borealis Fat Bikes, the Space Foundation Discovery Center, Pure Bouldering Gym, Pikes Peak Makerspace, and more. Other businesses, including Josh & John's Ice Cream, ventured to The Colorado Springs School campus itself to assist with hands-on activities and demonstrations such as ice cream-making. Overall, the 2021 program provided a chance for local businesses and organizations to reconnect with the greater community, once again, after facing more than a year of pandemic-related restrictions and limitations.
"One student told me his school is very low income and he rarely gets to go on field trips; that this was the first one he had been on in years," recalls Carissa L. '23, a CSS student and Full STEAM Ahead mentor. "He was really excited, and it meant a lot to be a part of that."
Through a partnership with area middle and high schools, Peak Education closes educational opportunity gaps for youth representing low-income backgrounds. The majority of Full STEAM Ahead participants are Peak Education Scholars entering into the 7th, 8th or 9th grade at partner schools, including Harrison District 2, District 11, and Manitou Springs Schools. Scholars, identified by their teachers and counselors in 6th and 7th grade as having high potential for academic and postsecondary success, also receive educational enrichment, mentoring, college counseling, and scholarship preparation services through Peak Education. Learn more about the Full STEAM Ahead program at css.org/fsa or Peak Education at peakedu.org.