A Peek Behind the Curtain of Radium Girls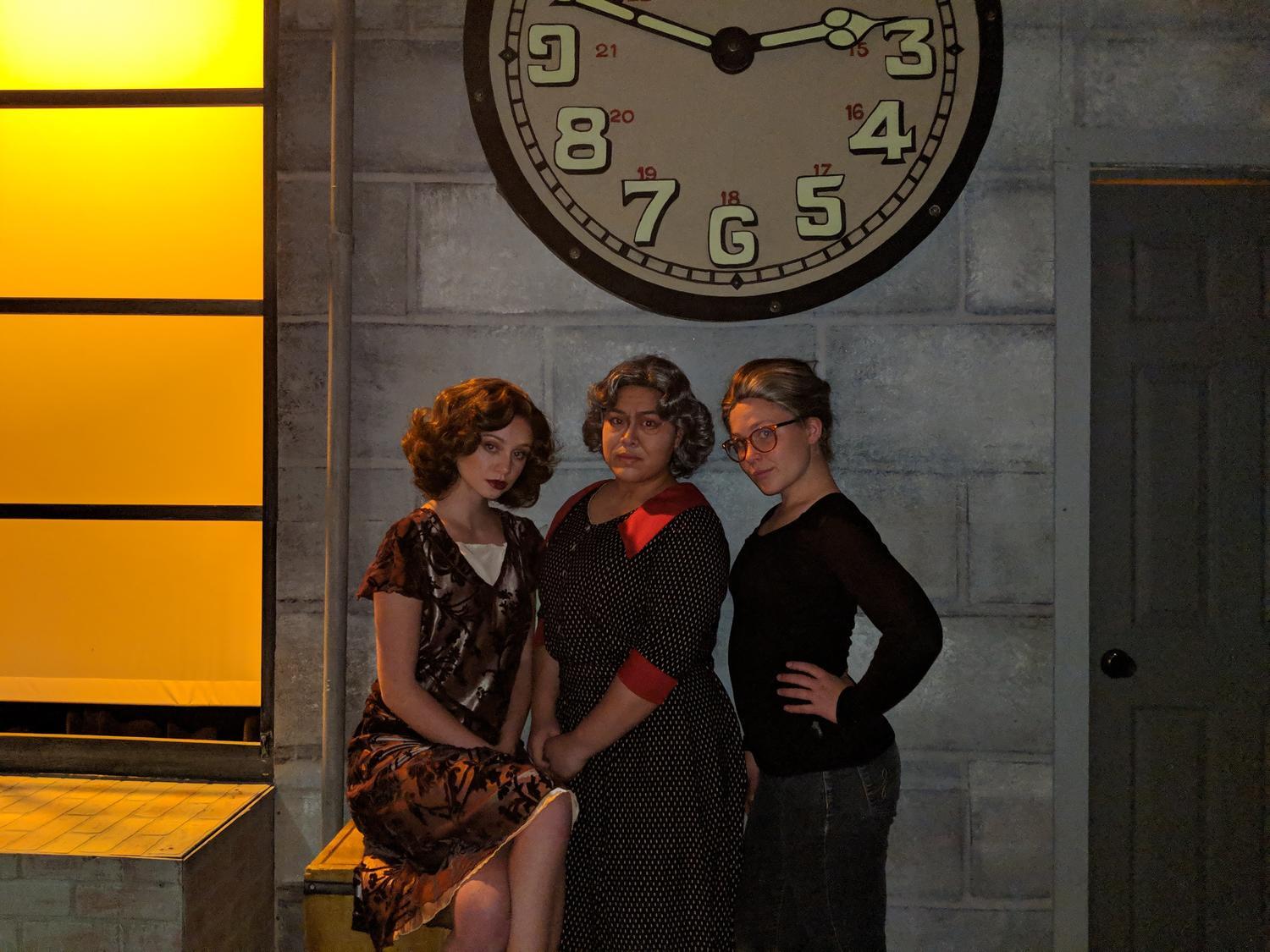 This Friday, The Colorado Springs School (CSS) will have its first of two showings of Radium Girls, the Upper School's fall play.
Radium was a cure-all, until the girls who painted them began to fall ill with an unknown and mysterious disease. Radium Girls, inspired by a true story and set in 1926, follows the efforts of Grace Fryer, a dial painter, as she fights to have her day in court. Throughout her journey to justice, Grace finds herself facing discourse in her relationships, not only with U.S. Radium Corporation and her chief adversary Arthur Roeder but also with her family and friends.
Radium Girls is undoubtedly more serious and intense than the fall plays in the past, and when asked about her choice, Sandy Bray the Theater Director at CSS said that was with reason. After doing a series of comedies in the theater during the last few years, Bray wanted to take the ball running with the prospects of a serious performance focused on character development. "I wanted to have a production with a more serious nature. My goal for these students is to really develop characters with depth," Bray said, "I wanted to present the opportunity for them to dive into something more meaningful. Theater gives actors the opportunity to reach an audience at their emotional core, and that is what this show is all about."
Victoria M. '19, who has two roles in Radium Girls as the Assistant Stage Director and Madame Curie, agrees that the production is more serious.
"The play has been a lot of late nights for me, organizing scene changes, drawings, communicating with others…which can lead to a lot of emotions," Victoria said, "I think I am most excited for this to be a really emotional play instead of a comedy. When we did Little Women it had a certain magic to it, and I'm looking forward to some of that magic being fulfilled with Radium Girls."
Although Victoria has only been involved in the theater since her sophomore year, she fell in love with it after working as the props manager during Little Women.
Amber W. '19, an international student from China and an accomplished visual artist, is fairly new to performing arts. Amber is cast as the role of Grace's mom, Mrs. Fryer. Amber has also contributed to the set, painting scenery and adding visual interest to the stage. "I think my favorite parts about being involved in Radium Girls has been being able to work with and get to know so many different people," Amber recounts. "In my character, I become a different person, I dress differently and I am transformed into a different person; all that is really cool for me."
Hannah G. '19, who has been involved in the performing arts since the 1st grade through the Dessert Theater program, is also excited to open the show!"At CSS we are introduced to theater in Children's School and I would definitely say it has become one of my passions," said Hannah. "My favorite part of theater is seeing it all come together. This week is our production week so we are running rehearsal as two complete acts, and it's kind of cool to see the product that comes out of our hard work."
Hannah is playing the role of Dianne Roeder, who she describes as an in-depth character."She's a very complex character," says Hannah, "Mrs. Roeder goes through a lot of self-doubt and battles that she faces within herself during the play and I've enjoyed taking on the challenge of that role."
As for Mrs. Bray, it's more than just seeing the play come together; it's also about seeing her students grow through the opportunities plays like Radium Girls have given them."We have a cast and crew of nearly 40 students. I've been working with some of these students since they were in kindergarten, and I know them on and off the stage. Getting to work with them on a whole other level is a payoff for me," Bray says. "Even the kids that are new totheater; it's about personal growth, building their confidence, and finding a voice. They will take those skills with them well beyond the stage in the Louisa Performing Arts Center."
CSS Upper School will present this highly theatrical ensemble piece this Friday and Saturday, November 16th and 17th, at the Louisa Performing Arts Center at 7:00 p.m. Come early so that you can check out The Gallery at Louisa and take part in the Upstagers concessions' offerings.