2021 Presentation of Faculty and Staff Awards
When reflecting on this school year and all the many accomplishments and successes – And yes, challenges it is clear that there was a theme of uncertainty and change. Being able to adjust and reinvent and provide a level of commitment and exemplary service was more than a challenge; it was an outright stretch.
The faculty awards of CSS are a symbol and token of the hard work of the teachers who work tirelessly to get us to this moment. These awards are issued to a teacher who is nominated by their peers and undoubtedly believes they optimize the high standards of CSS. Knowing that this was not a "normal" year, the nominees this year really had to show true grit, tenacity, and consistency within the Kodiak family at a time of global and local adversity.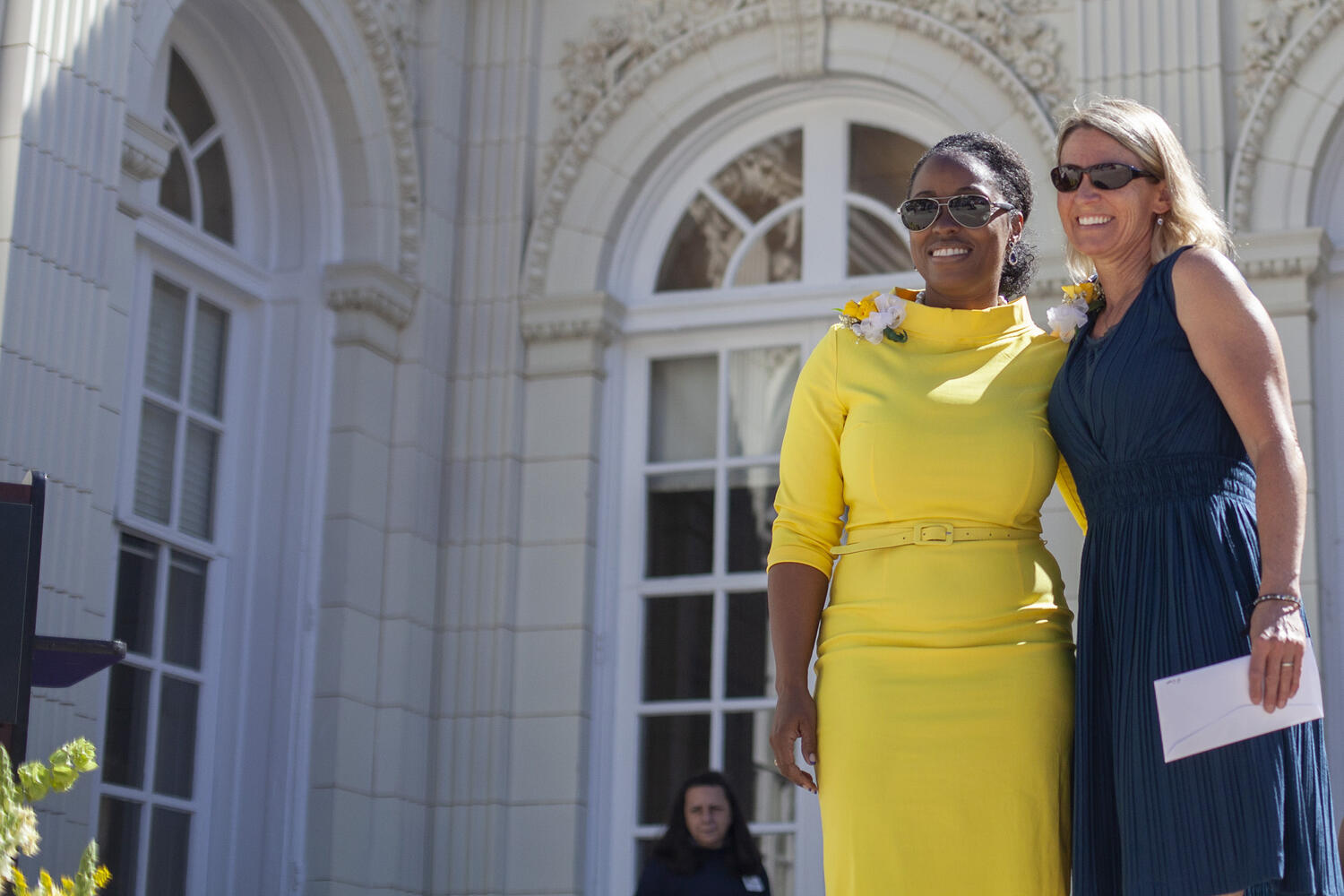 The Mary Flynn Flemke Award recognizes an outstanding individual in the education of students and the advancement of the school. A faculty member that leads by example and is loyal to the school. This award is bestowed to someone who exceeds the highest standards of our faculty and who also has the managerial skills to ensure that things get done.
The 2021 recipient of the Mary Flynn Flemke Leadership in Education award joined the CSS faculty in 2018. As a Children's School teacher, she holds "the littles" close to her heart and often times shares the perspective of our smallest learners when others may turn their focus elsewhere. She is described by her colleagues as a consistent force of positivity, forward-thinking, and generosity toward others. This individual has spear-headed efforts to show appreciation to every colleague on campus. Whether it is showing appreciation for carline volunteers, performing a drive-by parade for families during e-Learning, or her countless hours as the staff representative on the board of trustees, this recipient gets things done! A question that she has often posed with an eager inflection and with the expectation of an answer is, "How can we make things better?" She is selfless, kind, incredibly hard-working, and absolutely committed to the mission of CSS, wrote her esteemed colleague.
So, there is no question that:
Mrs. Ellen Crow is the winner of the 2021 Mary Flynn Flemke Award.
The Edward E. Ford Foundation Excellence in Teaching Award is given to a faculty member who has taught at CSS for a minimum of five years and epitomizes CSS's concept of teaching. This individual is committed to the growth and learning of our students both in and out of the classroom. This individual serves as an example to other teachers and has devoted a significant portion of their time to their instructional pedagogy.
This individual, like all teachers, had to make tremendous changes in order to teach students during e-Learning. To foster passion when you cannot utilize your classroom is no small feat. This individual has connections to our students that never grow old. They keep alums and parents engaged well beyond graduation. Since the beginning of his tenure in 2005, many have been impacted by his service to CSS. Sam Johnson '20, Geddy Marple '16, and Travis McDowell '13 are just a few that this individual has inspired. These individuals are CSS alums that have pursued their love and passion, having had special moments with this individual.
He is the Instrumental Music teacher and Band Director for grades 4-12. He also teaches Upper School Music Theory, directs the Pep Band, and coaches the Upper School Garage Band, Holiday Winds, and various other small ensembles.
He holds the Arts close to his heart. He is a strong and dynamic teacher leader who provides children with an outlet to pursue their passions and to bring joy to others. The one thing that many of us missed during the global pandemic —myself included was the opportunity for live music. Yet this individual filled our campus with sounds and melodies despite the many restrictions on his instruction. From BOOMWACKERS to the meager blue Lowe's bucket, he showed us that the show indeed must go on. His students will tell you that Mr. Mo is awesome, and they have learned from his ability and skill, but even more than this, this school year, they learned from him the willingness to persevere.
His outdoor education was heard and felt by all. Even our Broadmoor neighbors let us know these efforts are admired. Ironically, he met and married his wife on this campus.
As the faculty sponsor of the "Garage Band," a band for students to jam, perform and create, he once said: "Garage Band, in particular, allows students to further pursue the art of music in a way that means something to them personally," he said. "For me, it is incredibly gratifying to see our students take their classroom interests and explore them together outside of class."
It is the heart of this musician that we honor today.
Mr. Brent Moorhead is the winner of the 2021

As I previously stated, nothing about this year was "normal," and receiving a faculty award from the nomination of your colleagues is an honor.
We, as a school, held the honor in 1994 of having Sarah H. Elizabeth Hoiles in the graduating class. In July of 1997, the Hoiles family established an annual faculty award, The Sarah H. Elizabeth Hoiles Outstanding Faculty Award, in her name after tragedy struck their family and they suffered the loss of Sarah. Sarah's sisters Gail Hoiles Sanchez was amongst our 1998 graduating class and Jill Hoiles graduated in 2002.
The recipient of this special award has provided exemplary service to the CSS community. During his or her tenure, they must demonstrate commitment above and beyond the standard job requirements and have advocated for CSS with enthusiasm for teaching and learning.
Although this recipient is not a classroom teacher, he has taught and established skill sets. He lays the groundwork for technical proficiency, and the word "no" doesn't seem to be in his vocabulary. Since his start with CSS in 2004, he has modeled that if it can be done, he will find a way. He has been referred to as the "Macgyver of CSS." One of his colleagues wrote, "In a year like this one, we needed 4 of him". He delivered consistently the IT needs of any person who would ask if it meant Saturday, if it meant late evenings, if it meant research and off-campus meetings he was there! Not only there, but present with a smile, dedication, positivity, and expertise. He was willing to teach Finnegan Thompson and anyone else all that he knows, and he embraces all things change. Even during prom, this individual was there to help set up and provide support.
While we as a nation relied heavily on technology and utilized e-Learning as a sole modality, this individual was working tirelessly to support the faculty, staff, students, and board of trustees to ensure it happened. His department of one deserves honor and esteem.
It is with great pleasure and great gratitude that I announce:
Joe Thomas as the recipient of the Sarah H. Elizabeth Hoiles Outstanding Faculty Award